Medical Waste Management Software Solutions
SharpSoft® was created to enable a medical waste management companies to manage daily operations while providing intelligent solutions and automation to everyday challenges faced by both small and large businesses in the waste transportation industry.
Our Management Software Products Include: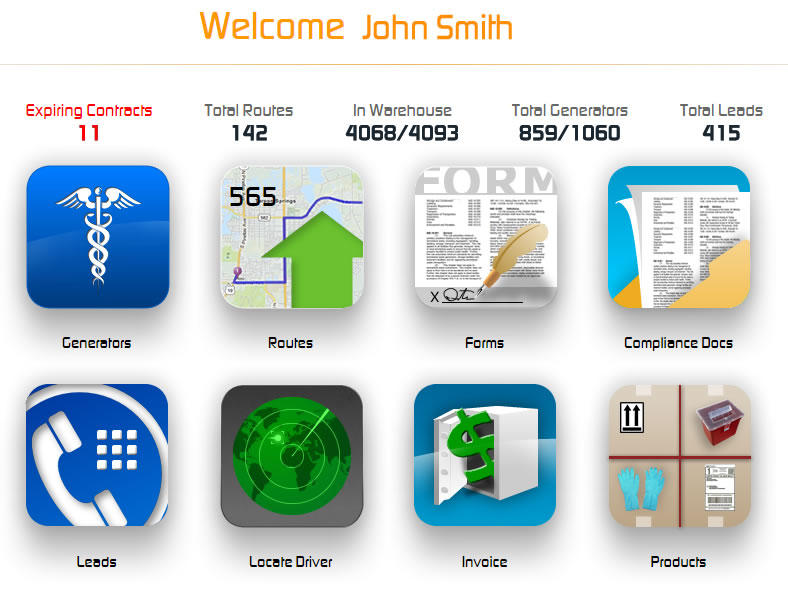 Marketing Email, USPS Transportation
Lead Generation
Real Time Customer Contracts & Agreement Generator With Screen Signature Technology
Customer Operation Hours & Holiday Closures
Fully Customizable Routing
Real Time Routing Transaction Details
Real Time Route Cost Analysis
Bio-Medical Waste Generator Forms Emailed Or Faxed To Customer In Real Time
Invoiced Emailed Or Faxed To Customer In Real Time
Driver Locator & SMS Text Messaging
Invoicing Models Including Price-Per-Pound Flat Rate & Box Container Pricing
Invoice Reporting, Aging, Statements & Price Books
Vehicle Check List
Compliance Testing & Certification For Blood Borne Pathogens & Biomedical Waste Handling Your Customers In Real Time!
Automated Disposal, Treatment Record Log Documentation
Customer Documentation, Compliance & Marketing Portal – Allows Your Customers Access To Their Invoices, Make Payments, Bmw Forms, Contracts & Direct Product Sales Marketing To Customers
Driver Friendly Apps For All Smart Phones, Tablets, Ipads & Iphones, Android
Unique Industry Features
In the typical small business scenario, the business owner spends a significant portion of his/her day planning and scheduling pick-ups from generators of medical waste. The scheduling process is complicated by many factors ranging from calculations of distance to be traveled, fuel consumption, duration of the trip and optimization of the route path.

SharpSoft® Dashboard is the starting point for managing the waste transport business. With quick-look metrics that help identify real-time values for critical business processes and easy links to the most commonly used modules and features, getting to the information the business owner needs or seeing opportunities as they develop is made simple and straight forward. Never miss an important goal or objective again.

The SharpSoft® routing module enables the business owner to create a route that is calendar-based and will repeat at a frequency specified by the owner. The route is calculated using a proprietary Intelligent Routing Algorithm (IRM) to help determine the fastest and most economical path to complete the entire route. Routes can include up to 35 planned stops with an unlimited number of routes per SharpSoft® Routing System. Each route is displayed on a high resolution map with each stop identified with an icon and the name of the business being visited. A route narrative is generated and describes the fuel consumption, distance to be traveled and time duration from start to stop with a user specified Service Interval (SI).

Create a route once and re-use it every day, every week, or every month. Thereafter, the choice is yours.

There are over 20 significant processes and advances in the SharpSoft® Application, we are only scratching the surface of what this application is able to do for the Waste Transportation Industry.

Managing your Waste Transportation Business from start to finish is a snap with the SharpSoft® Application.
Our Medical Waste Software Solutions Partners
Extending SharpSoft® to Unlock Your Business Potential
Get Pricing, Product Information or Ask Questions